Jax's Story
Jax is my working German Shepherd that I've raised from a pup.
Jax battled gastrointestinal issues and allergies from the time he was a pup until he was 4 years old and I began feeding Longevity Raw. Jax lived in chronic pain and discomfort and I had insurmountable vet bills that I was beginning to have trouble paying. At times, I felt completely helpless and did not know what to do to fix my dog.
I felt that I had exhausted all of my options and didn't know where to turn. That is when I tried raw dog food. Our lives changed dramatically! Jax has been eating Longevity Raw Dog Food since 2016. Our vet visits were dramatically reduced. More importantly, Jax no longer has itchy skin, torn pads, sores and constant itching.
Many of us think of our pets as an extension of our family. I encourage everyone to try Longevity Raw Dog Food for the health and longevity of their pet.
Prior to feeding raw, we experienced the following:
chronic gastrointestinal problems (diarrhea);
tried to feed over a dozen different kinds of kibble, all unscuccessful;
allergy tests and shots for one year;
numerous courses of antibiotics;
itchy skin;
sores;
infections;
raw pads;
suffering;
constant itching; and
thousands in vet bills!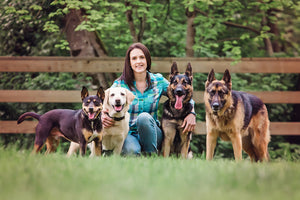 Passion for Dog Nutrition
I am passionate about dog nutrition not only because of Jax, but because of previous dogs and cats that I loved and lost to cancer. Take the time to inform yourself as to what is an appropriate diet for your dog.
Veterinarians such as Dr. Ian Billinghurst and Dr. Karen Becker offer a wealth of information through publications and the internet in respect to canine nutrition. The below is an eye opening video from The Dog Cancer Series that will leave you throwing your kibble in the garbage and loading up your best friend's bowl with good quality raw meat, bone and veggies. We want to be a part of your dog's journey to a healthy and long life!